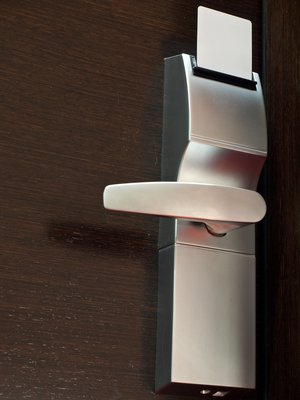 The locksmith service that 1st Locks offer, is built on a winning combination of efficiency and discretion.  Hotel locksmiths of our calibre only fit insurance approved locks.  Working with us, you can be sure that we will secure your hotel entrances and internal doors quickly and with reliable, resilient results.
Hotel Lock Fitting
Whether you prefer traditional, purely mechanical locks or electronic key-card/room-card access to your rooms, we have experience in delivering first class security to your premises, staff and guests.
We can offer lock fitting services to any size of premises and are delighted to suggest the right equipment to meet your needs or be guided by your requirements.
Emergency Lock Repairs In Hotels
We appreciate that to deliver a relaxing and comfortable experience to your guests, you offer secure hotel rooms with reliable locks on every door.
If one or more of your rooms are compromised, locks become damaged or malfunction you need a reliable service that you can trust to correct the problem immediately.

24-7 Glass offers a quick response to secure any room(s) in your hotel without fuss.
Our engineers carry a wide range of locks and parts and can often return your damaged locks to full working order when we visit.  If your closure requires a component that we don't carry routinely, we have the experience to deploy temporary measures to maintain your security while the exact components are procured.
Payment Methods
We accept payment by BACS / Credit/Debit Cards, Cheques and Commercial accounts are welcome.
Get In Touch
Contact us now to discuss your requirements:
Call:
0808 10 80 247
or
0121 514 7140
.
Or
Contact us online here
.